Mobile Commerce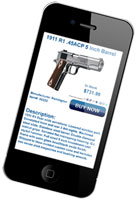 Today's consumer is always on the move. Over 35% of American adults now own a smartphone — your customers are active and mobile, and want their shopping to be too. Mobile commerce sales are projected to grow from $3 billion in 2010 to $30 billion by 2016. Make sure that your customers are able to visit your site anytime, anywhere, with a mobile website solution from Outdoor Business Network.
Mobile website solutions from Outdoor Business Network provide world class technology and streamlined operation with an intuitive and interactive user experience. OBN's professional designers build every mobile site with all of the features consumers have come to expect while shopping online. Mobile websites from OBN are optimized for smartphone users and meant to keep store owners connected with their customers.
Did you know?
73% of smartphone users have used a mobile site to make a purchase decision or purchase
48% of smartphone users use mobile sites/ apps 10+ times per day
81% of smartphone users browse the Internet on their device
Outdoor Business Network's mobile website solutions allow you to catch your customers where you can – their mobile phones!